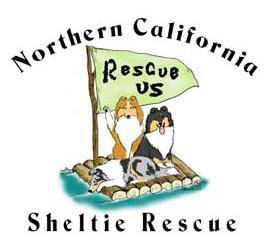 Click on photo for larger image
Harley:

A tiny sheltie with a big heart that matches his spirit. Harley was living a rough life until he came into rescue. With physical challenges in all four legs, he still ran and played with the best of shelties, learned his dog manners while in our foster home and has become an ambassador for the breed. While most people would not take on a dog such as Harley, an amazing couple in Rio Vista decided that Harley was just the perfect sheltie for them. Harley now lives with Helen and Al who have opened their hearts and home to this special little dog.

Gracie:

Gracie came to in poor physical shape. She badly needed a dental due to an infected mouth, needed spaying and was heartworm positive! She was in foster care for quite awhile until we got her to state of good health. Harley's adopter's sister saw Gracie and fell in love. Now Gracie is living the good life in her new home with Harley living practically next door!
Julie:

Julie went to live the good life in San Leandro with Aaron and Julie. She will be close to her former owner again since her assisted living facility is close to Julie's new home!
Nero:

Nero is very happy he is staying with his foster mom in Sacramento. Shelley decided to make their relationship permanent by adopting this handsome boy!
Teddy:

Teddy went home to the Chico area with two experienced sheltie lovers
Oscar:

Oscar has gained a house mate with a beautiful Belgian Tervern and a loving home with Evelyn in Tahoe City.
Pendragon:

Pendragon never left his foster home when he turned out to be a perfect match for this three generation, loving home which includes a toddler, kitties and senior dogs.
Tony:

Jack & Pat fostered Tony as a 5-month-old pup, housebreaking him within three days by teaching him to use two doggy doors. Before long, Tony wormed his way into their hearts and they decided to adopt him. He's so friendly that he greets everyone and everything in his path, especially children, always looking for affection. He joins his best Sheltie buddy, Allie, and is living the good life with his new family.


Bonnie & Echo

10 yr old Bonnie came into Rescue with her 13 yr old mother, Echo. They were both infested internally with heartworms and had to endure several weeks of painful treatment to destroy the worms before they could kill the girls. Dentals have been done to remove rotted teeth and to get their infected gums healthy. Now spayed, current on their vaccinations and heartworm negative they are living the good life with Lucie & Frank in Napa.

Ashley

Tiny Ashley (7 lbs.) was adopted by her foster family when they realized what a little gem she is. Compatible with kids of all ages, as well as dogs and cats, Ashley helps make this wonderful home feel complete.
Bentley

Three year old Bentley (l) has found bliss with adopter, Kathie, and big collie sister, LuluBelle, (r). They live happily together in Carmichael, CA. The two were rescued separately by Kathie. They love to playtime and helping" Kathie while she gardens.
Toby

Toby has found his forever family with the lucky Jean & John in Lincoln.
Libby

10 year old Libby has found her family with Julie and Roger along with Chyanne her sheltie rescue sister.